About
George Mason Hillel is the Center for Jewish Campus Life at George Mason University. Hillel may be reached at (703) 993-3321 or via e-mail at hillel@gmu.edu. Hillel is located in the Johnson Center 239H
Hillel provides a wide range of programs and services from social to religious. In addition, as a Jewish resource center we have information on trips to Israel, Jewish periodicals, and much, much more. If you have questions or are interested in becoming a part of the George Mason Hillel please give us a call or stop by the office in Johnson Center 239H. We're always glad to meet new people.
Vision/Mission
Our vision is that every Jewish student makes an enduring commitment to Jewish life, and our primary goal is to significantly increase the number of Jewish students who have meaningful Jewish experiences.
Hillel's mission is to enrich the lives of Jewish students so that they may enrich the Jewish people and the world.
Staff: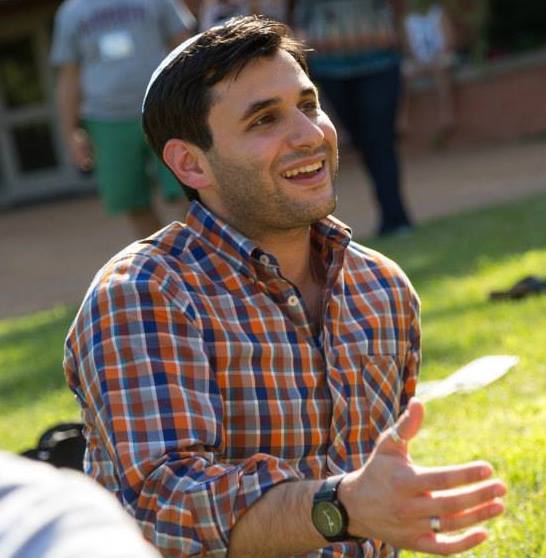 Ross Diamond, Executive Director
Email: rdiamond@gmu.edu
In 2004 Ross was approached while volunteering at Penn State's dance marathon and asked "Are you Jewish?" and "Do you want to go on Birthright?" These questions changed Ross' life forever. After a year of being a leader in Hillel at Penn State Ross ventured back to Israel only to meet an amazing Canadian named Sarah at the JFK airport in New York. An amazing conversation at the Kotel (Western Wall) left them both feeling a connection to each other that carried them through four years of dating internationally. They were married under the Chuppah on July 5th 2009. The morning of his wedding he jumped in the famous Rideau Canal for a ritual mikvah.
After immigrating to Canada officially in March 2010, Ross began working for KPMG in Ottawa. He realized quickly that his zeal for working with people and community building would not be satisfied with his participation in a Jewish young professional planning committee or leading the first Ottawa Social Action Mission to Israel. After hearing the departure of previous Hillel Ottawa Director he saw an opportunity and served as the Executive Director of Hillel Ottawa for two years.
In the spring of 2012, Ross and Sarah decided to leave Ottawa and begin a new chapter in their life in the greater Washington, D.C. area. Ross' desire to stay on campus engaging Jewish students made Hillel the obvious organization of choice. Fate would have it that GMU Hillel was engaged in a search for a new Director at the same time Ross was searching for a new campus role. He is incredibly excited about the potential for growth at GMU Hillel. As in Ottawa, Ross intends to continually pay forward the gift that was given to him by working to inspire Jewish students at Mason to make an enduring commitment to Jewish life.
GMU Hillel Community Board 2014-15:
Executive Committee:
President: Adam August
Vice President: Joanne Wilkenfeld Wyman
Treasurer: Neil Schlussel
Secretary: Josh Cantor
Community Board Members:
Rabbi Bruce Aft
Dana Blumenfeld
Holly Gebel
Deborah Kessler
Taylor Kreinces
Asher Kotz
Michael Medina
Dvorah Richman
Bernhard Saxe
David Schneider
Jared Gold
Natalie Roisman
Carol Weiss
Past Presidents:
Natalie Roisman
Scott Brown
Rabbi Bruce Aft
George Billinson
Arthur Goldberg
Richard Peet